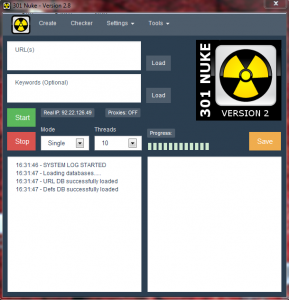 Hey guys,
We have just released 301 Nuke 2.8 today. Here are the updates we have made: –
Watch out for a case study soon where we show you how to use 301 Nuke to rank a Niche product page to make money with Amazon!
Here are the main updates contained within the 2.8 update. (301 Nuke will automatically update after you restart the software).
Old non working sites removed from database
New sites added (Double the amount of successfully created URLs)
Submission engine re-coded to allow me to add sites much quicker than before
You can now add 50 urls to 'MULTI' mode (Submission time will take longer the more URL's you use in this mode)
Bug fixes